1.6m The Best Quality and Stable Double Beams Non Woven Fabric Machine
| | |
| --- | --- |
| Place of Origin: | Wenzhou,Zhejiang |
| Brand Name: | YP(YanPeng) |
| Model Number: | YP-SS 1600mm,2400mm,3200mm |
| Certification: | CE/ISO9001 |
| | |
| --- | --- |
| Minimum Order Quantity: | 1SET |
| Delivery Time: | 120Days |
| Payment Terms: | T/T,L/C,D/P |
| Supply Ability: | 50 sets per year |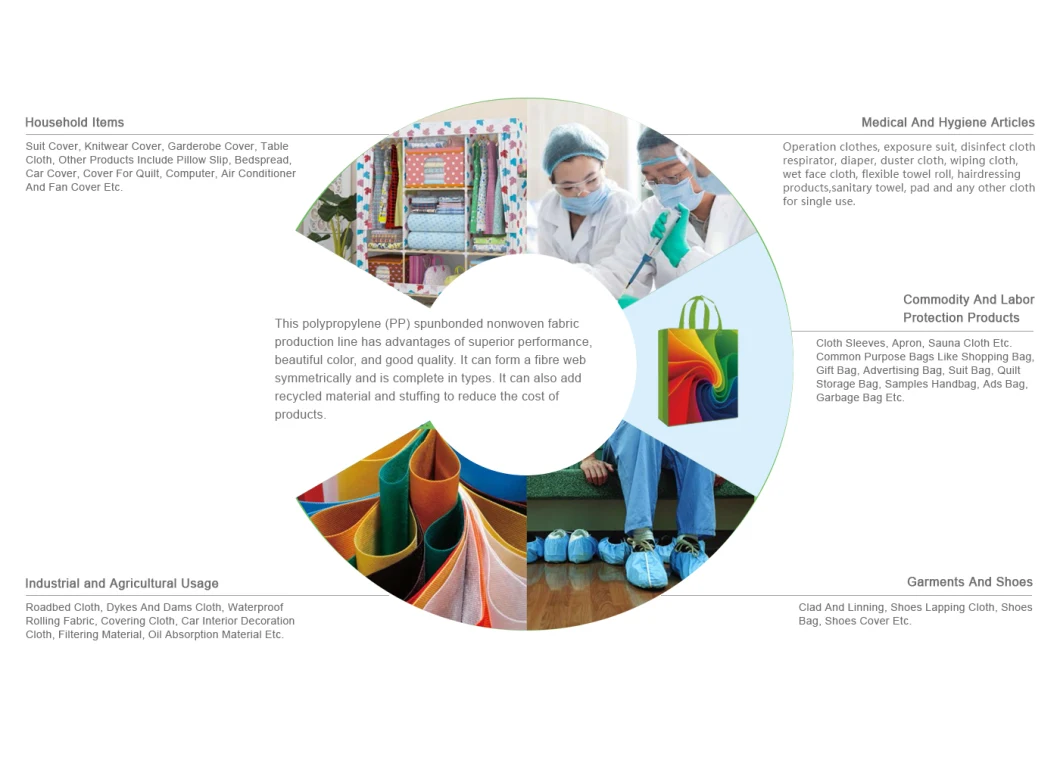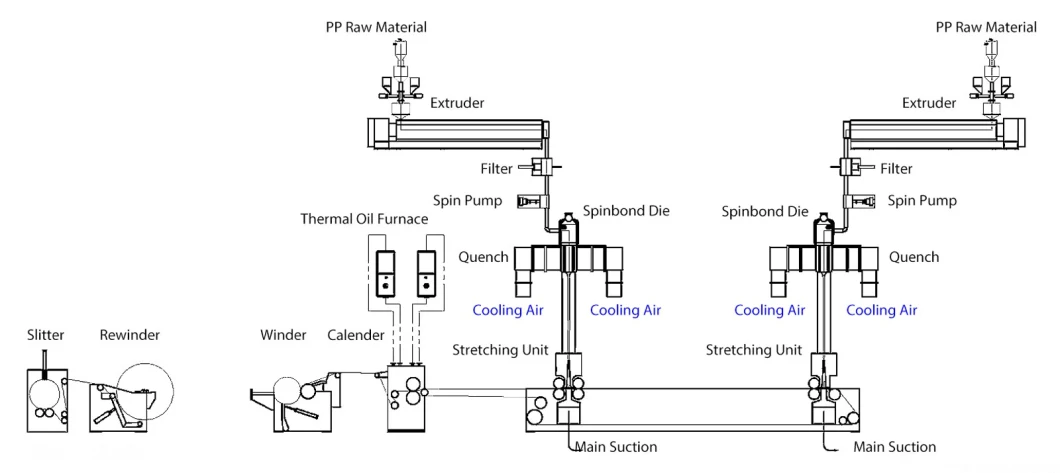 (1) PP Double beams Nonwoven machine for making nonwoven fabric rolls.
Nonwoven machine is also known as nonwoven equipment or spunbonded nonwoven production line. After mixing polypropylene, color masterbatch, cooling masterbatch and other raw materials, melting at high temperature, spinning, hot pressing into cloth, winding, cutting into finished products and other processes. These are the main steps in the nonwovens production line. The machine includes feeding system, screw extrusion, filter, metering pump, spinning box, cooling system, drawing machine and other components.
1.6m The best quality and stable double beams nonwoven machine

SS(Product width)

Equipment Size

Speed

Gram Weight

Yield (according to 20g/m2)
1600mm

29*13*10m




350m/min


10-150g/m2

9-10T/Days

2400mm

30*14*10m

13-14T/Days

3200mm

32*15*10m

18-19T/ Days

The configuration of machines could be CUSTOMIZED as your needs!
(2)process flow:
Feeding→Extrusion Melting→filtering→metering→spinning→Cooling→Stretching
→Web spreading→Thermal bonding→slitting→collecting
Certifications: CE/ISO9001
Nonwoven machine is used for spunbonded composite production of nonwoven fabric. It is fully automatic and easy to operate. It can be customized according to customers' needs.
Yanpeng Polypropylene Double Beams Non-woven Machine is designed and manufactured according to the specific requirements of customers. Their application fields are also correspondingly extensive,such as:packaging,hygiene,medical treatment, furniture, technology, filtration.
Double beams nonwoven machines are usually used for packaging and furniture, such as shopping bags or bedspreads.
In addition, the non-woven machine can produce nonwoven fabrics of different colors and grams according to the needs of customers.

Spunbonded Nonwoven fabric Mainly Applications

Nonwoven Packaging Products

Shopping bag, rice backaging, tea bag, clothes packaging, etc.

Nonwoven Hygiene Products

Baby and adult diapers: Top sheets, back sheets, ears, tapes, landing zone;
Female hygiene: Top sheets, wings;
Cleaning wipes: Baby care, cosmetics, etc.

Nonwoven Medical Products

Surgeon's Cap,surgeon's mask, disposable garments, surgical drapes, surgical sheet, shoe covers, etc.

Nonwoven Technical Products

Geotextiles:Erosion protection, filtration, reinforcement, drainage, separation layers, embankment fortification etc. for streets, dikes, and farms
Structural engineering:Bitumen supports, roof insulation sheeting, diaphragms
Agriculture: Crop forcing nonwovens, insect protection, etc.
Automotive:Inner paneling,sound insulation, insulation, etc.

Nonwoven Furniture Products

Beds:Pocket springs, mattresses, cushions, bed covers, disposal bedding
Seating: Upholstered backs, sub-paneling, intermediate layers, etc.
Spunmelt Composite Nonwoven Fabric Mainly Applications

Nonwoven Hygiene Products

Baby and adult diapers

Nonwoven Medical Products

Surgeon's mask, surgical drapes, etc.

Nonwoven Filtration Products

Gas, air, liquids(benzene, water, blood), etc.

Work Protection Products

Protecitve clothing, breathing masks.
Meltblown Nonwoven Fabric Mainly Applications

Nonwoven Sanitary Products

Baby and child hygiene
Female hygiene
Incontinence products
Pads
Absorbing pads
Functional inserts for controlled absorption

Nonwoven Absorbents Products

Absorbent cloths and wiping cloths
Media for oil absorption
Liquids (benzene, water, blood)

Nonwoven Filtration Products

Gas, air, liquids(benzene, water, blood), etc.
1. We provide pre-sale and after-sale services, especially one-year free maintenance.
2. If there is a problem with nonwoven machine parts, customers can take photos and explain the situation to us by e-mail. We will help you solve the problem online or e-mail immediately.
3.We will send 2 or 4 engineers to install, test the production line and train customers' workers in buyers' factory. It will take 1 month for whole installation and training.
4. If there are big problems of the nonwoven machine caused by wrong operation, we will arrange professional engineer to solve the problem in customer's factory, but all the cost including visa, air fare and accommodations must be paid by customer.
6.Our strength:
1.Quality Control in whole process, provide individual high cost-effective nonwoven lines, helping customer cost saving.
2.Focus on non woven equipment research and development in 14 years. Install and running more than 400 lines all over the world
3.Import high precision CNC machine. The key parts machining in house, ensure to provide high quality machine for each customer
4.Over 20 person team for machine after sales service.Ensure the customers can get quickly and professional installation and debugged in time.