Equipment advantages
1. Stable performance: professional screw design experience, good plasticizing effect, stable performance, suitable for high yield.
2. Precision filtration, precision filtration system and melt metering system, real time closed loop control extrusion pressure stability.
3. High precision extrusion: high precision extrusion die head and spinneret components, meet the production high quality product.
4. Automatic: full automatic cutting, winding system online, speed stability.
5. High temperature into a net: professional resistance to thermal belt type into a network system, optimize the design of negative pressure system.
6. Control system: adopting Siemens brand integrated high performance PLC control system.
7. Equipped: one-stop service, equipped with, static in extremely high temperature calcination furnace, vacuum cleaning and testing equipment;
8. The production quality: domestic core accessories manufacturers for many years stable cooperation relations, ensure the delivery cycle and production quality.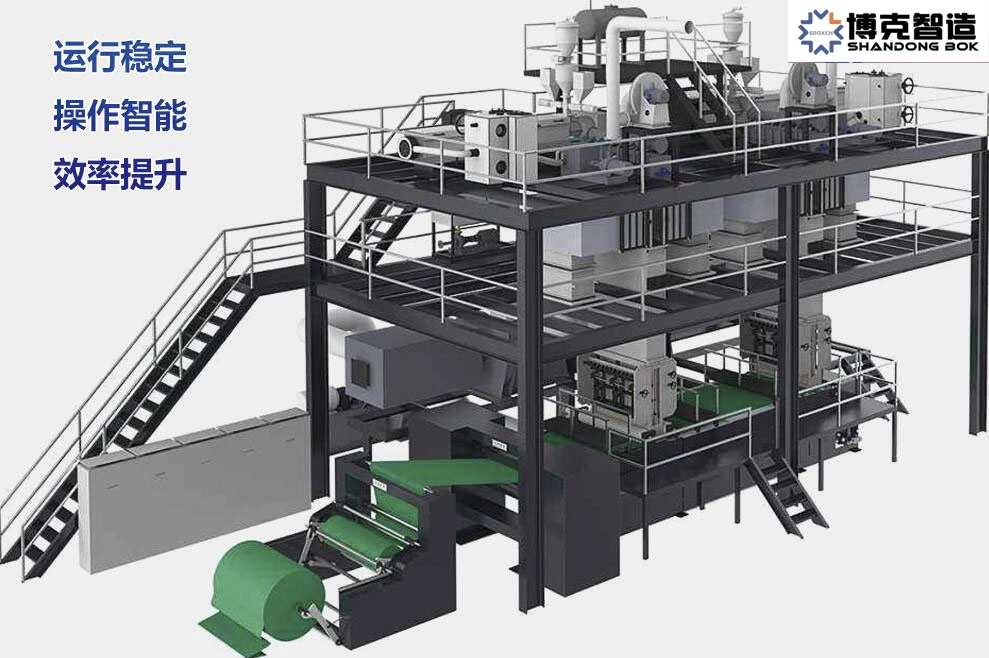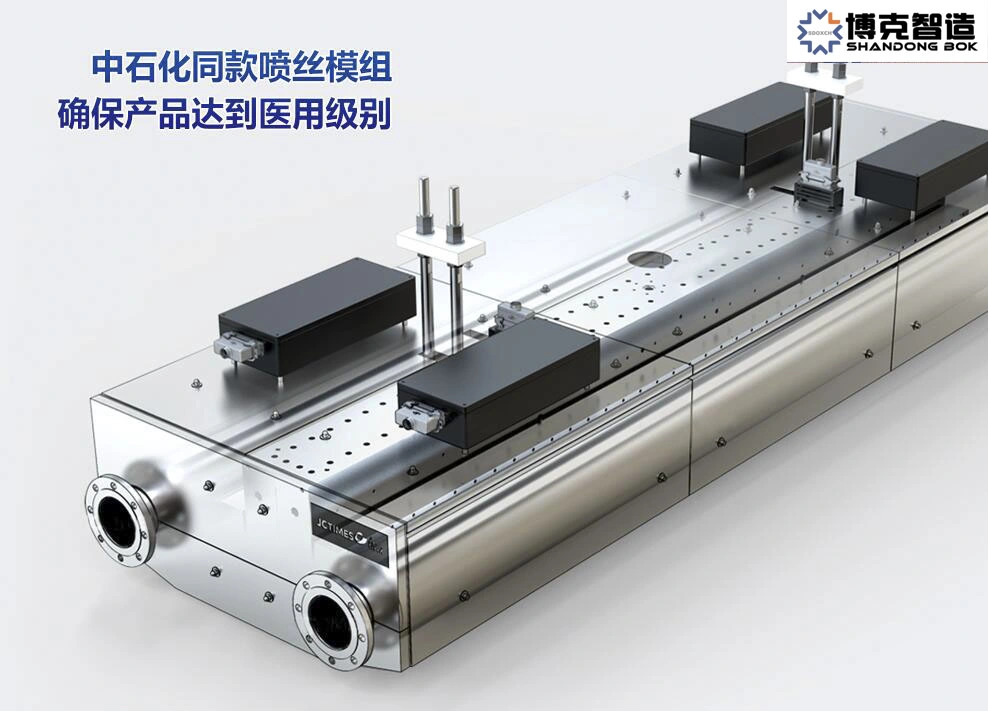 Cooperate with shandong blog advantage
1. Leading role: stressed and give full play to the leading role in the process of design in the whole construction. To design a leading role in the whole construction process of stress and play, is advantageous to the optimization of the production overall project construction plan of the. We assist in planning and design, workshop equipment layout, assist purification workshop design, construction and guide the production procedure. To provide design, installation, debugging, production personnel training, trial production, the whole process technical services.
2. The state certification: bork group for the national recognition of the epidemic prevention security supplies production unit, masks, melt-blown cloth, cotton, detergent, hand sanitizer, etc., all equipment and materials used for manufacturing, our group affiliates we have rich experience in production, so for the feasibility of this project provides reliable guarantee, customers can come to our workshop. We can provide customers with technical personnel to training, melt-blown fabric production, machine commissioning and maintenance services. Help customers to solve many problems of the early production, real let customers worry, rest assured, at ease.
3. Provide optimal: designed to provide for the customer, devices and solutions in the most suitable products, and successfully copied, across the country have many cooperation factories, has the rich experience of cooperation. Many years of experience in production of the total package, we have established a set of efficient form built the whole service process and service consciousness, in the production of equipment failure immediately to the scene to optimal problem solving, bork commitment: telephone guidance cannot solve the equipment problems, 24 hours we arrived at the scene.
4: overcome contradiction: effectively overcome constrained design, procurement, construction and contradiction between each other, is advantageous to the various phases of the design, procurement, construction reasonable cohesion, effectively achieve the project schedule, cost and quality control in accordance with the project contracting contract, to ensure they get good investment benefits.
5: in advantage: agency for customers with raw material suppliers, and giving full play to the advantages of cooperation in joint purchase equipment users, joint procurement of raw materials, reduce the production cost to the greatest extent.
Cooperation process
1. Customers to our factory test and field visit workshop production line and production process.
2. To discuss cooperation plan, sign a contract.
3. Assist in design, factory, workshop, equipment layout, installation, process flow, such as drawings, provide resources needed for the design unit, detailed guidance project from the project, design, assessment, eia, fire control and acceptance procedures, and provide the project feasibility report, the eia report, an evaluation report template.
4. Equipment production and sent to the client, installation team enters the site construction at the same time.
5. Equipment installation, debugging, work over, our technicians to reach customers, from production and automation control personnel.
6. Assist to drive the post operation procedures and provide production and safety management, and other written materials.
Device is operating normally, the customer can independent production operation, our personnel to return.