DS-67 1+1 Disposable Medical Respirator Surgical Face Mask Making
Machine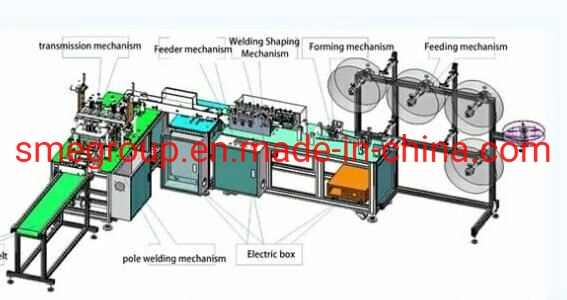 product description:
1. Imported cylinder, servo motor, good stability, low failure rate, and high productivity.
2. Automatic diagnosis and alarm device, reduce maintenance cost, guarantee efficient and safe operation.
3. High automation, automatic control of the whole process of the equipment, stable and smooth operation, long-term continuous operation and good stability are impressive.
4. Touch screen design, easy-learning simple operation, and effectively saving labor cost.
Features:
1.Automatic tension control of raw materials to ensure the balance of raw material tension and the qualified rate of finished products
2. Color-printed first-line brand ultrasonic welding machine with good welding quality and durability;
3. Modular, user-friendly design and easy maintenance;
4, computer PLC programming control, servo drive, high output, good stability, low failure rate;
5, photoelectric detection of raw materials to avoid errors and reduce waste;
6, can produce 1 to 4 layers of mask body (with activated carbon adsorption material in the middle to produce anti-smoke masks), which meets the production needs of enterprises;
7. This equipment has the function of total count and batch count. The number of batch count can be set arbitrarily
8. Replacing the mold can produce masks of different sizes and styles;
9, the entire equipment uses aluminum alloy structure, beautiful and solid without rust;
10. When the equipment is abnormal or the material is cut off, it will automatically stop the alarm and the screen will guide you to deal with the abnormal situation quickly.
Basic parameters:
| | |
| --- | --- |
| Material | Non-woven fabric |
| Output | 50-80PCS/min |
| Mask size | 175*95mm (Loop extra) |
| Power | AC 220V |
| Air pressure | 0.4-0.6MPA |
| Operator | 1 person |
| Total power | 6KW |
| Overall dimension | 6000×750×1800mm |
| Weight | 1780KGS |
Material selection reference
Production accessories required for the high speed flat ear mask production line:
A. Outer layer: 175mm wide, 09AC blue, 25 grams of PP non-woven cloth, surface diameter:
600mm (recommended), inner diameter of paper reel: 75mm, weight limit: 10KG.
B. Middle layer: 180mm wide, white, plate diameter 600mm, paper reel inner diameter 75mm, add
electric melt-blown cloth, weight limit 10KG.
C. Inner layer: 195mm wide, white, 600mm in diameter, 75mm in diameter of paper roll, PP
non-woven fabric, 10KG in weight limit.
D. Nose clip strip (single center) : size: 3*0.8mm (recommended), inside diameter: 200mm.
E. Earline: size: 3*0.8mm (recommended), bagged or boxed.
Working power supply:
The device is220VAC±5
% ,50HZ
and Rated power is about 9kw;
·
Compressed air:
0.5~0.7 MPa,Its flow rate is about 300L / min;
·
Operating environment:
temperature 5 ~ 35 ºC, humidity 5-35% HR, no flammable, corrosive gas, no dust (cleanness no less than 100,000 grade).
Machine Structure
This equipment mainly produces the plane mask, by the mask forming machine and the ear belt welding unit.
Mask molding machine
4.1The machine mainly completes the mask from the roll to the molding function.Including
automatic feeding rack, nose bar insertion, cutting, ultrasonic fusion, section, etc.The feeding rack is
composed of square steel pipe and profile, and each group of feeding shaft is equipped with a braking
device. The feeding rack is equipped with multiple groups of feeding shaft components, which facilitates
the selection of masks with different layers.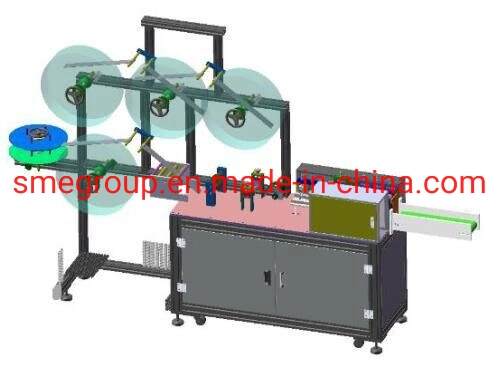 4.2 Feeding and forming part
The coil material is manually placed on the corresponding rack, and no driving transport is achieved
through the traction force of the fusion part of the rear section.The pleats were produced by the copying
roller and two sets of folding sheets, which were inserted into each other, and the pleats were separated by
the principle of dislocation and compacted by the cots.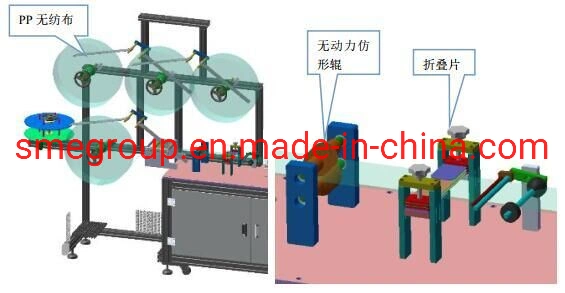 4.3 Welding mechanism
Ultrasonic welding is adopted, and automatic fixed-length cutting is realized through the feeding and
cutting mechanism of the bridge, and then the bridge is wrapped into the appropriate position by the edge
wrapping device, which is then welded by ultrasonic.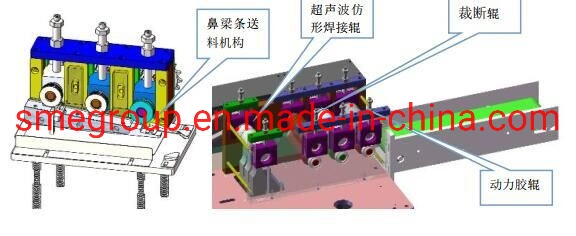 4.4 External ear belt welding machine
The machine is composed of a frame, conveying support plate, lug belt feeding, lug belt
fixed-length welding, lug belt cutting and discharging mechanism, realizing the lug belt automatic
welding function.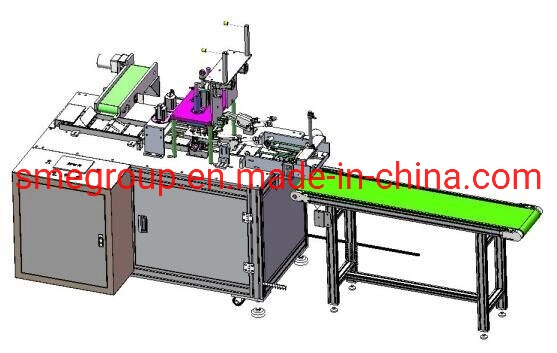 4.5 Lug belt welding mechanism
The ear belt is fixed and cut by the pull rope mechanism and driven by the 180° rotating motor to grab the ear belt. After the welding position is placed, the welding head is fitted for welding. After the welding is completed, it is transferred from the clip conveyor belt to the pull belt to complete the mask production process.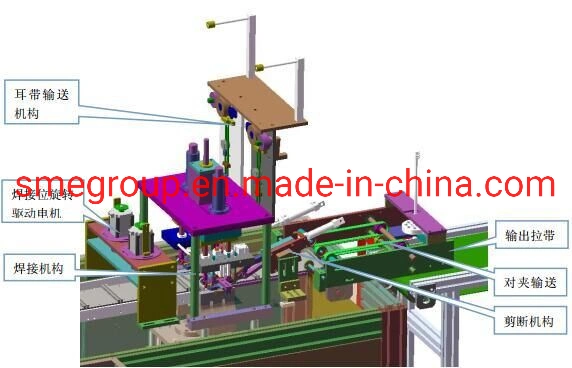 5.
Finished products picture
: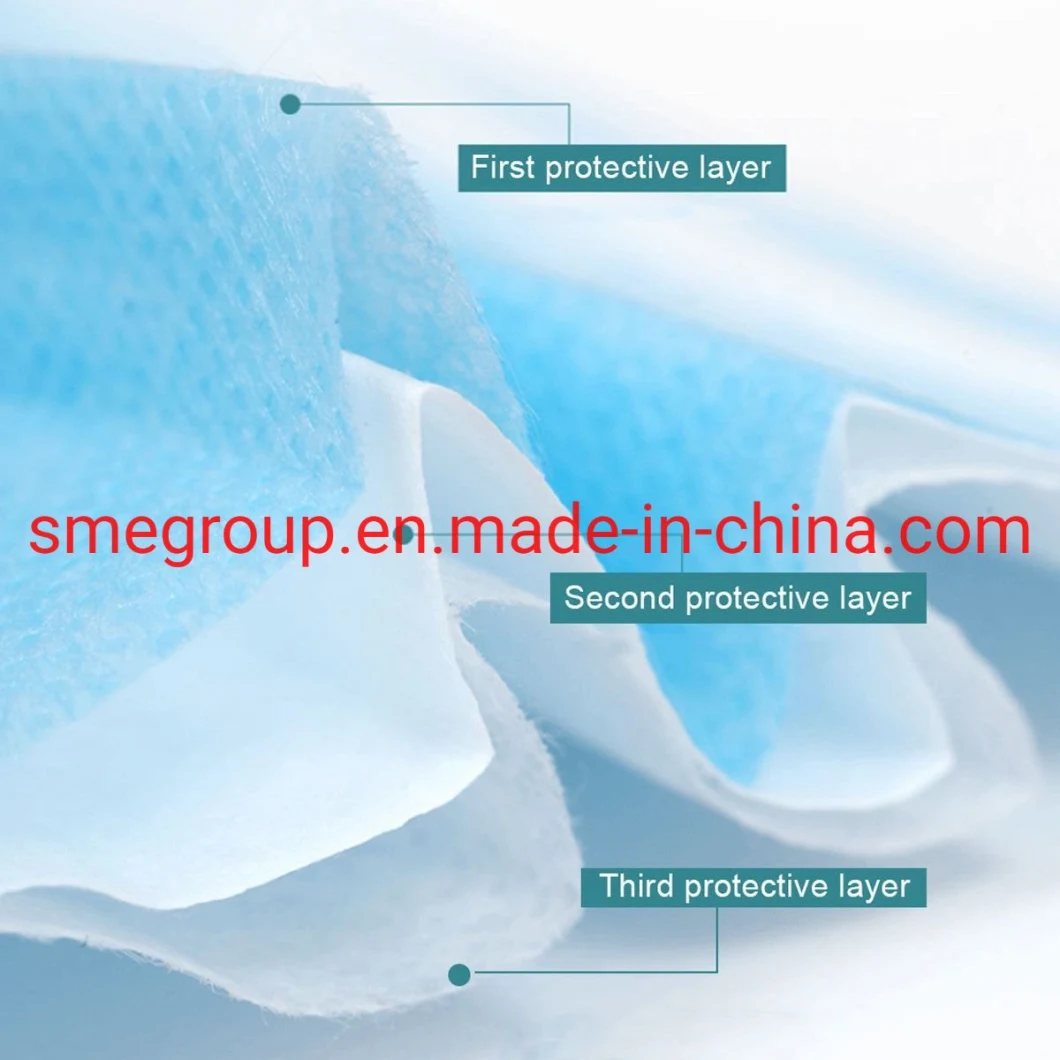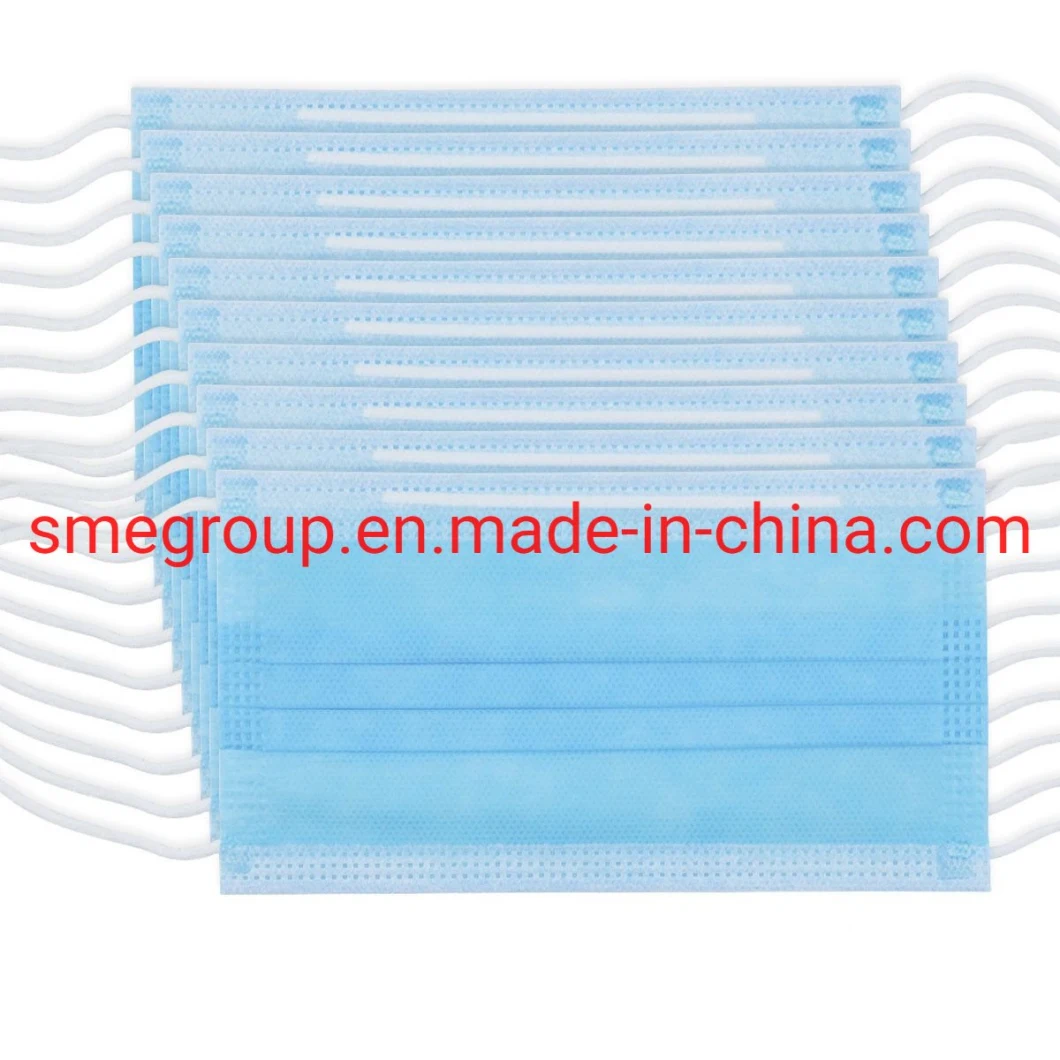 Machine Details picture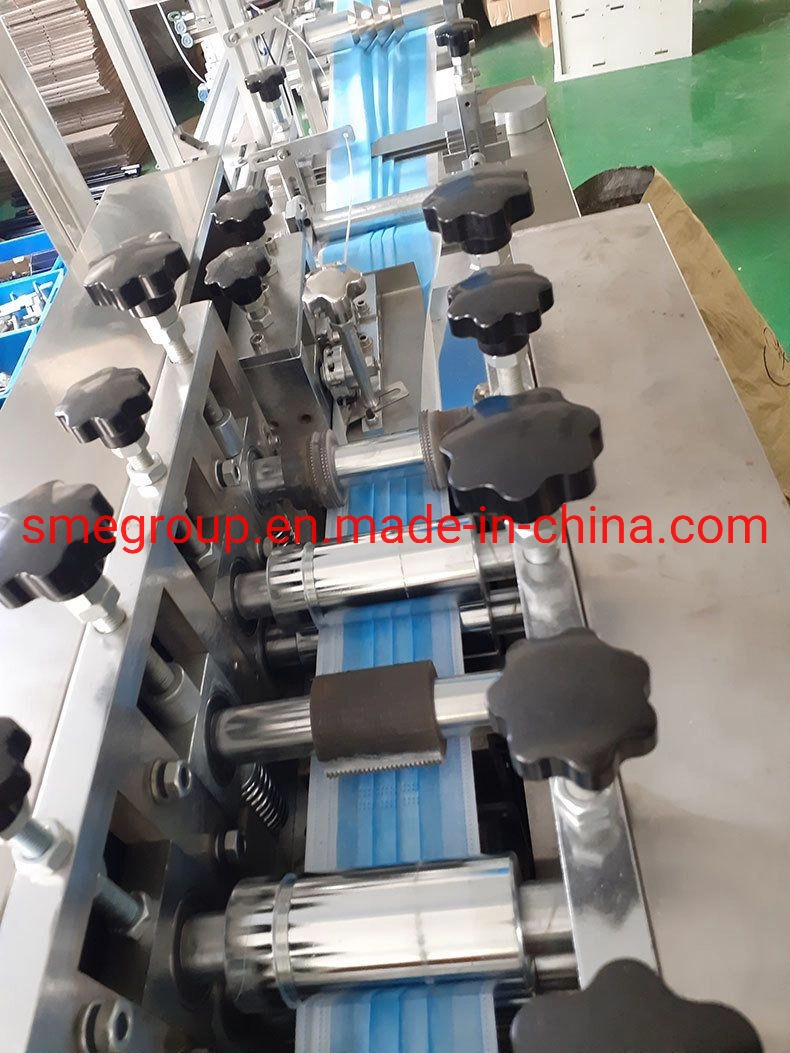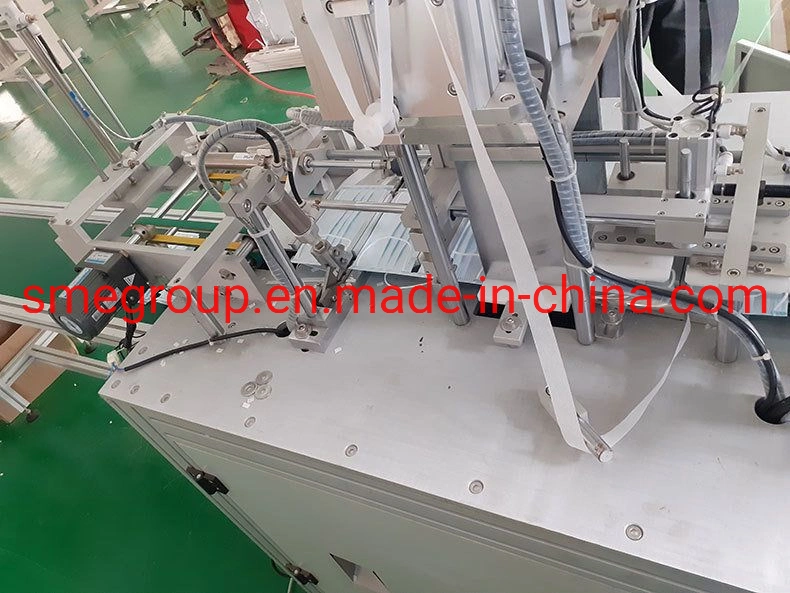 Main Parts
| | | |
| --- | --- | --- |
| Name | Brand | Origin |
| Servo Motor | Delta | Taiwan |
| Frequency Converter | Delixi | China |
| Cylinder | SMC | Japan |
| PLC | Mitsubishi | Japan |
| Touch Screen | Xinjie | China |
| Ultrasonic Generator | Factory own brand | China |
| Ultrasonic Converter | NTK | Janpan |
Ultrasonic Horn




(Material: Titanium)

Factory own brand

China
E. Spare Parts:
1. Relay: RM4S-U DC 24V 5pcs
RM2S-U DC 24V 5pcs
2. Fuse 20pcs
3. Fan: SJ92025HA2 AC 220V 2pcs
4. Ultrasonic component:
PCB0501B 2pcs
PCB0501A2 2pcs
PCB0501F 2pcs
Transducer 1pcs
Horn 1pcs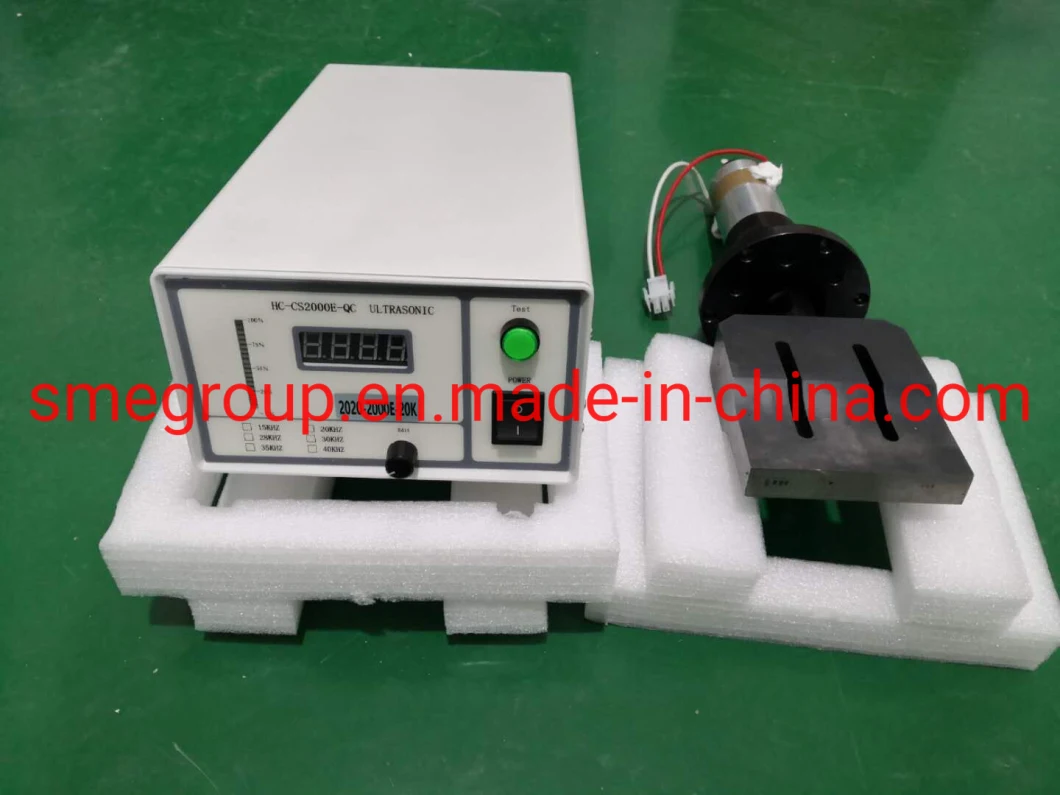 Proximity Detector: QL-08N 4pcs




6. Blank cutting knife: 2




7. Ear-loop cuter:

3




8. Ear-loop welding head:

3
About US:
CHINA SME GROUP Co., Ltd is a leading manufacturer in the field of
Non-woven deep processing equipment
devices since
2008
. In the past
10
years,
MOTECH
has targeted on the technology development, precise manufacturing, professional marketing, satisfied technical support and OEM solutions. We offer
Medical/Labor Protection Mask Making Machine;
Non-woven cosmetic product making machine;Medical Disposal Making Machine;
Non Woven Aviation/Hotel Product Making Machine; and Medical Disposal Making Machine
to fit the needs of different industries.
Due to continuous efforts in the field of
Non-woven deep processing equipment
devices,
MOTECH
Machinery was honored to obtain CE certificate and ISO 9001 certificate showed our emphasis on safety ,quality and has a successful sale in Asia, American, Africa and so on.
MOTECH
looks forward to establishing a long-term and mutual beneficial partnership with more agents or distributors all over the world. Moreover, We provide the OEM solution based on strict quality control for famous companies in Japan, USA etc.
In the future,
MOTECH
Machinery will keep to provide customers:
-Quality machines
-Competitive price
-Satisfied service